Register here for our forum to get all the up-to-date information as it happens.




Our gallery contains all the pictures and screen captures that our members have taken.




Check out all Rafa's results -
Results by Year
Singles Results by Tournament
Head to Head



here.




© mars06 for VB

A bunch of VBers went to Madrid. hen re-opened her blog from last year and MAC & Co. , and holina opened new ones. They all shared their experiences, photos and videos with us.

May 24 - Roland Garros, Paris, France

June 8 - MercedesCup, Stuttgart, Germany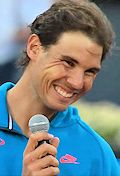 Screencap by elise
STOP PRESS

27th May
Roland Garros
Rafa defeated his first-round opponent,
Quentin Halys
, in straight sets,
6-3, 6-3, 6-4
. He'll face
Nicolas Almagro
next, on Thursday, in the second match of the day on Court Philippe-Chatrier. The WTA match before theirs is scheduled to start at 11 AM local time (CEST), 10 AM BST, 5 AM EDT.
Work out match times in your time zone with
this
handy converter.
Rafa is in
Novak Djokovic
's quarter.The other seeded players left in Rafa's quarter are
Tommy Robredo
,
Kevin Anderson
,
Richard Gasquet
and
Bernard Tomic
.
Info
Pics
A/V
TV & Live-streaming info
Official Site
Draw
Internazionali BNL d'Italia, Rome 2015
by MAC

A lot is expected of Rafael Nadal. When he came back from a six month injury break at the start of 2013, most pundits said it would take him a year to get back to his best. He proved them all wrong by winning 10 tournaments that year. As a consequence the same pundits are all keen to say he's in decline when he hasn't managed to win any of the clay tournaments leading up to Roland Garros this year. I don't remember any of them being quite so dismissive of other players on their return from surgery. Maybe it's because his operation wasn't related to a sports injury. It's still surgery, guys.


In Rome this year he beat
Marsel Ilhan
,
6-2, 6-0
and then
John Isner
6-4, 6-4
. In the latter match he made only three unforced errors, all of which were double faults.
When he came out against
Stanislas Wawrinka
in the quarter final, we were all hoping for more of the same. In a masterpiece of scheduling he had to play his first night match of the week which may have contributed to the fact that he couldn't play as well. Rafa lost
6-7(7), 2-6
.
So, once again, the pundits are writing Rafa off. Optimistic British journalists even have Andy Murray as second favourite for Roland Garros this year. (It's taking a lot of strength to resist a strong inclination to roll my eyes at that.)
This is what Rafa thinks (according to
this article in Tennis World
).
"
I think I played well tonight. This is the continuation I was expecting and hoping for after Madrid. Obviously during the day the ball bounces higher and is faster, so for me it is better against Stan, but tonight the ball was slower, staying more on the strings, slower, so that didn't help. When I was 4-3 I hit some mistakes with my forehand I shouldn't have and that I normally never miss. But in the tie-break when I was up 6-2 it is not like I hit some unforced errors. He went for his shots, played unbelievable tennis and well deserved the win.
"
I know I can play well in Paris. The center court is bigger there, the ball bounces higher like I like it. I am sure if I can play well I still have a shot at winning, and I am confident I can do it, I can play well. If I don't play well, then for sure I have no chances to win again in Paris. The fact that I am not the favorite? I don't care. I have never been ranked so low before the start of the French Open, so it will be something new for me and I will possibly face tough opponents earlier, but really I don't care about that. All I care about is to work well next week, practice well and head confident to Paris.
"
If I don't win in Paris? Well, I will survive, seriously life goes on and will continue. It is not like I am going to be winning 15 French Open titles in a row anyway. Losing is a part of the game and you just have to accept it.
"
ATP - Rome 2015 - Rafael Nadal : "Je peux bien...
by tennisactu
It may be that he won't win Roland Garros this year. That doesn't mean he won't win it again in the future. There have been a few times in Rafa's career that injuries could have meant it was all over - 2005, 2009 and 2012 - but he's still here and he's still playing. There is every chance, therefore, that he will triumph again. I think that's something to celebrate.
Good luck in Roland Garros, Rafa