Register here for our forum to get all the up-to-date information as it happens.




Our gallery contains all
the pictures and screen captures that our members have taken.




Check out all Rafa's results -
Results by Year
Results by Tournament
Head to Head



here.



Latest blogs

Reports from various tournaments in 2014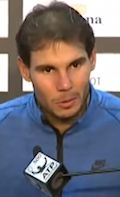 Screencap by MAC
STOP PRESS

23rd November
Rafa is expected to start training again on December 1st.
Nike retrospective
by MAC (with thanks to juanita for finding videos)

Following on from the ad retrospective a couple of weeks ago, here is a selection of Nike advertisements over the years. (The dates are approximate - based on the earliest upload to youtube. Apologies if I've got any wrong.)


2005
2007
2009
2010
2012
2013
2014